Activate Queen's email 
Once you accept offer in SOLUS as either a student in the Certificate in Law program or as a non-degree interest Law student, activate your Queen's student email as all communication sent by the Faculty of Law is done via your student email and not through your personal email. 
Visit Queen's ITS to learn more about Microsoft Office 365 Email and to activate your student email. 
If you experience difficulty in activating your Queen's email, please contact Queen's IT Support Centre.  
Accessing Courses in onQ
The Faculty of Law does its best to get you access to your course(s) in onQ a few days before your course begins however, if not, courses are available on the first day of term for which you are enrolled. To log into onQ, click on https://my.queensu.ca/ or follow below instructions. 
Go to the Certificate in Law website: https://certificate.queenslaw.ca/
Click on the white button in the top right corner "Search and Sign In" 
On the "University Wide" column on the left hand side, select the "onQ" tab
If you would like to review course descriptions, assessment weighting and textbook information, visit our Courses page. 
Final Exams
When you enroll in a Law course associated with the Certificate in Law, you are agreeing to write your final online exam in OnQ using Proctortrack.    
Remote proctoring allows students to take an assessment at a remote location of your choice using your own computer while ensuring the integrity of exam. The objectives of remote proctoring tools are first, to verify the identities of the students being assessed, and second, to protect the academic integrity of the assessments. These systems require students to confirm their identity, and, during the exam, the system monitors students through video, audio and system changes, looking for behaviour that could indicate violations of academic integrity. In some cases, a human proctor monitors the student remotely. Please visit the Proctortrack FAQ's on the Registrar's website for general information, security and privacy and more about the exam experience 
Exam dates and times are set by Queen's University and cannot be changed. Please arrange personal and work commitments around the time period that is allotted for you to schedule and complete your exam. Do not schedule vacations, appointments, travel etc. during the exam period as these requests are not considered conflicts. 
It is your responsibility to ensure your computer meets the following requirements needed for final exam:
Desktop computer or laptop (iPads, tablets and mobile devices not supported)

PC: Windows 7, 8, or higher; Chromebook version 80 or higher 
MAC: OSX EI Capitan 10.11 or higher 

You must have a working built-in or external webcam (800 x 600 resolution or better) and microphone
Your Internet speed must be at least 300 kbps download and 250 kbps upload. You can determine your Internet speed by running a test at: http://www.speedtest.net
Recommended browsers are Google Chrome and Mozilla Firefox, with pop-up blocker disabled 
Winter 2021 - April Exam Schedule TBD 
| | | | | |
| --- | --- | --- | --- | --- |
| Course Name  | Course Nbr.  | Section  | Start Date/Time | End Date/Time |
| Introduction to Canadian Law | Law 201/701 | 700 | Fri, April 23 at 9:00AM  | Sat, April 24 at 9:00AM  |
| Workplace Law  | Law 203/703 | 700 | Tue, April 27 at 9:00AM  | Wed, April 28 at 9:00AM  |
| Public & Constitutional Law  | Law 205/705 | 700 | Wed, April 21 at 9:00AM  | Thu, April 22 at 9:00AM |
To ensure you do not miss any important exam information sent from the Exams Office, you can review list of of messages that have been emailed to students. Click here. 
Exam Centre Codes 
When enrolling in a Law course, SOLUS will require you to enter an exam centre code (location to write exam). You can enter any location including "4251" OR "Kingston, ON" as students are not assessed any off-campus fees for writing final, online Law exams.  
Academic Consideration for Students with Extenuating Circumstances 
Academic Consideration is meant to assist you manage a short-term extenuating circumstance that is beyond your control and could affect academics. If you are unable to write your final, online Law examination(s) within the allotted 24-hour period due to extenuating circumstances, you will need to submit one of the following two academic considerations.  
Request for academic consideration up to 3 days
Request for academic consideration between 4 days and 3 months
If you are enrolled in 200-level courses and require an exam deferral, please contact your home faculty or visit home faculty website for Academic Consideration policies and procedures. If you are enrolled in 700-level courses and need to defer, please send an email to lawcertificate@queensu.ca.  
If you are seeking ongoing academic accommodations and are registered with Queen's Student Accessibility Services (QSAS), please contact your instructor or contact the QSAS Intake Coordinator at qsas.intake@queensu.ca or 613-533-6000, ext. 77628.
Examples of extenuating circumstances listed below:
Short-term physical or mental illness (e.g., stomach flu)
Serious injury (e.g., concussion or broken bones)
Required treatment (e.g., surgery or medication side effects)
Serious injury or illness of significant other (e.g., car accident)
Bereavement (death of family member or close friend)
Traumatic event (e.g., divorce, sexual assault)
Unforeseen technological or workspace disruptions beyond student's control, computer malfunction, power outage affecting access; documentation is required (dated receipt of repair [e.g.to demonstrate hardware/software repair], dated news articles, weather reports or screenshots from utility provider to demonstrate lack of internet access due to power outage)
Examples of non-extenuating circumstances:
A personal event (e.g., wedding, vacation, travel etc.)
Transportation difficulties 
Technical problems (e.g., computer issues)
Competing commitments (e.g., work, volunteering, extra-curricular activities, etc.)
High levels of academic or exam-related stress
For requests related to religious observances
Technology malfunctions (chronic technological difficulties or workspace disruptions, such as long-term hardware/software failure, prolonged poor internet coverage, lack of planning or knowledge of program software/onQ, missing notifications/reminders, use of unsupported/out-of-date software, or other persistent technological challenges)
If you are registered with Queen's Student Accessibility Services (QSAS) and receiving accommodations throughout term in which you are enrolled, upload your Letter of Accommodation to onQ course page in the "BEGIN HERE" section right under the Syllabus. 
Final Grades
Your final grades can be found on SOLUS. Official transcripts showing final grades will be available on the Official Grade Release Date. 
Important Dates
Winter 2021
January 10, 2021: Tuition fees due
January 11, 2021: Classes start
January 22, 2021: Last day to drop courses without financial penalty
January 22, 2021: Last day to add courses
February 16-19, 2021: Mid-term reading week 
March 5, 2021: Last day to drop courses without academic penalty
April 9, 2021: Classes end
April 10-13, 2021: Winter term pre-examination study period
April 14-30, 2021: Final Assessments/Exam period
April 30, 2021: Last date to apply to graduate in SOLUS for Spring 2021
Summer 2021
May 1, 2021: Tuition fees due
May 10, 2021: Classes start
May 14, 2021: Last day to add classes
May 21, 2021: Last day to drop courses without financial penalty
July 2, 2021: Last day to drop courses without academic penalty
July 15, 2021: First day to apply in SOLUS to graduate for fall 2021
July 30, 2021: Classes end 
August 3-7, 2021: Final assessments/Exam period 
Managing Academics: SOLUS
Follow link to find information on how to access your academic related data on SOLUS. There are guides on how to add, drop, swap courses, apply to graduate and access your unofficial transcript http://www.queensu.ca/registrar/solus/academics. 
Searching Classes in SOLUS 
When searching online classes in SOLUS, change course career to "Undergraduate Online" to review list of available courses or add in course number to find specific course.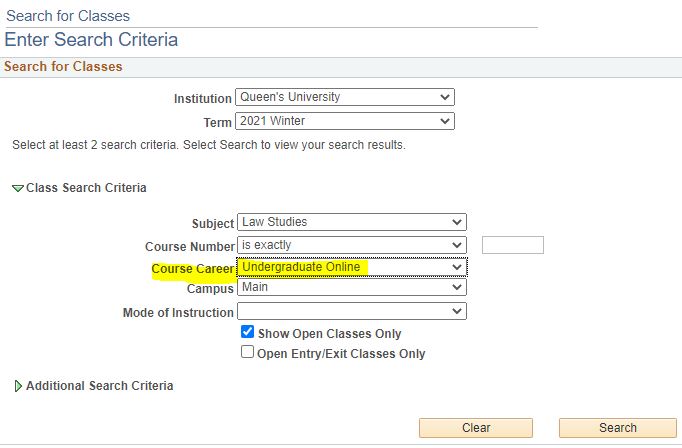 PIC (Personal Interest Credit)
Only students enrolled in the Bachelor of Commerce program may choose to designate an undergraduate Law course for pass/fail grading that would normally have letter grading. For more information on the academic regulations, please contact an Academic Advisor in your faculty office. Bachelor of Commerce website.
If you are registered or considering applying to the Certificate in Law program within the Faculty of Law, you are not able to designate courses for Personal Interest Credit as these courses do not satisfy the requirements of the certificate. To be granted the Certificate in Law, you must meet academic progression of C+ or higher.
If you designate a Law course for Personal Interest Credit (PIC) before being accepted into the Certificate in Law, this course cannot be used to satisfy the requirements needed for the certificate. 
Fee Refunds
When all fees and charges owing to Queen's University are paid and a credit balance remains on your SOLUS account, you may be eligible for a refund. This also applies if you drop a course within the specific drop deadline schedule, you may receive a full or partial credit http://www.queensu.ca/registrar/financials/refunds. 
Transcripts
If you require an official transcript or need information including ordering, how to receive and costs, please visit the University Registrar – Transcripts. 
Academic Integrity
The Certificate in Law is governed by the academic integrity policy adopted and adhered to by the Queen's University Faculty of Law.
Graduation
Once you have completed requirements for the Certificate in Law program and met academic progression, apply to graduate within SOLUS. There are two convocation ceremonies; Spring (mid-June) and Fall (mid-November). If unsure or would like to double check that all your Certificate in Law requirements have been satisfied, email the Certificate in Law Program Coordinator at lawcertificate@queensu.ca.
Attending Convocation Ceremony
If you are an on-campus student wanting to receive both your diploma and Certificate in Law at home faculty ceremony, please indicate when applying to graduate in SOLUS that you are attending home faculty ceremony but not Law ceremony. If you are not a dual student, you are cordially invited to be in attendance at the Law ceremony. 
Not Attending Convocation
If you selected "Mail" when you applied to graduate, your diploma will be sent to your primary address listed in SOLUS. Please note, it will be shipped 3-4 weeks after ceremony. Ensure your address and phone number are up to date. If address is incorrect, your certificate will be returned to the Registrar's Office, If you selected "Pick Up", your certificate will be available in Gordon Hall, Room 125 beginning on the day of your ceremony (photo identification is required to pick up). 
Important Notice:  As per the Senate Policy on Student Debtors; if you have an outstanding debt to the university your diploma will not be printed.  Once you clear your debt, you may contact the Registrar's Office to request to have it printed.
Please visit the Registrar's website for more information on graduation. Check out the tutorial for further details on how to apply to graduate.