Queen's has a number of standalone learning sites: you'll be taking your courses in OnQ, for instance, and registering for the Certificate and its courses through our own course manager, SOLUS.
SOLUS is a powerful tool – and can be a little daunting for the first-time user. Here's a quick primer on how to find and enroll in the courses you want to take:
1. Be enrolled at Queen's!
We strongly encourage you to enroll in the Certificate program before taking Certificate courses. That being said, if you're not already a Queen's student, you will need to enroll at Queen's in some capacity before SOLUS is available to you. If you're not a registered student at the university, none of the below steps will work.
2. Login to the SOLUS Student Centre
Once you've enrolled at Queen's, you'll have your NetID and password. You'll need those to log into the SOLUS Student Centre.
Visit https://my.queensu.ca and log in using your NetID and password.
Click the "SOLUS" banner on the upper right of the page.

3. Check your "Enrollment Appointment" to see when you can enroll in classes
Almost as important as enrolling in classes is knowing when you can enroll in classes. Queen's lets students get a "sneak preview" of when enrollment opens up for them. Here's how it works:
In SOLUS, a window will appear on the right side of your screen telling you when you can start adding courses to your SOLUS shopping cart, and when you can enroll.
This window traditionally appears on the second Monday of July for fall and winter courses, and the first Monday of February for summer courses.
Make a note of when your shopping cart will open and when you can formally enroll for classes.
4. Choose your classes
Adding classes to your "shopping cart" can be done before you formally enrol. Either way, the process is the same:
In the "Academics" section of your SOLUS page, click "Enroll."
Choose the right term that you want to take classes in. "Fall" classes start in September; "Winter" classes start in January; "Summer" classes start in May.
The easiest way to find Certificate courses is to search for them: click "Class Search" and the "Search" button. Then select "Law Studies" under "Subject", keep "Undergraduate" as the Course Career and select "Online" as your Mode of Instruction.
From the search results, click the blue class name for the class you're interested in. Confirm it's the right class in the Class Detail page, then click "Select Class" at the bottom of the page.
Confirm all the class information, then click NEXT to view your shopping cart, and finally enroll.
This PDF walks through every step of the process with screenshots.
5. Tracking Your Fees
If you'd like to see all the activity associated with your account, select "Account Activity" in the dropdown under "Finances" in the SOLUS Student Centre.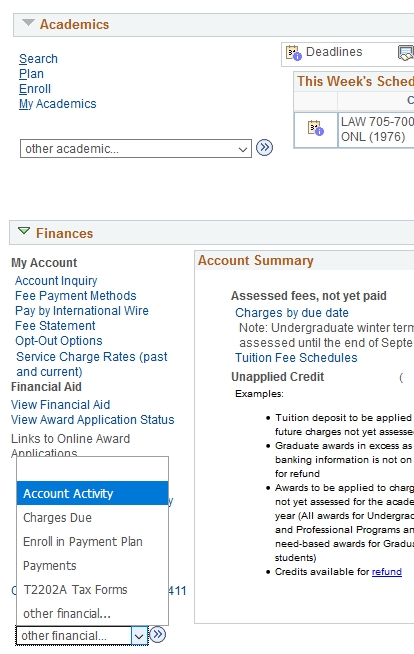 6. Enjoy Your Classes!
SOLUS can be hard to navigate for the first-timer. If you'd like even more information on how it works, you can visit the SOLUS help page at the Queen's University registrar site — it has more, and more detailed, instructions on our course registration system.